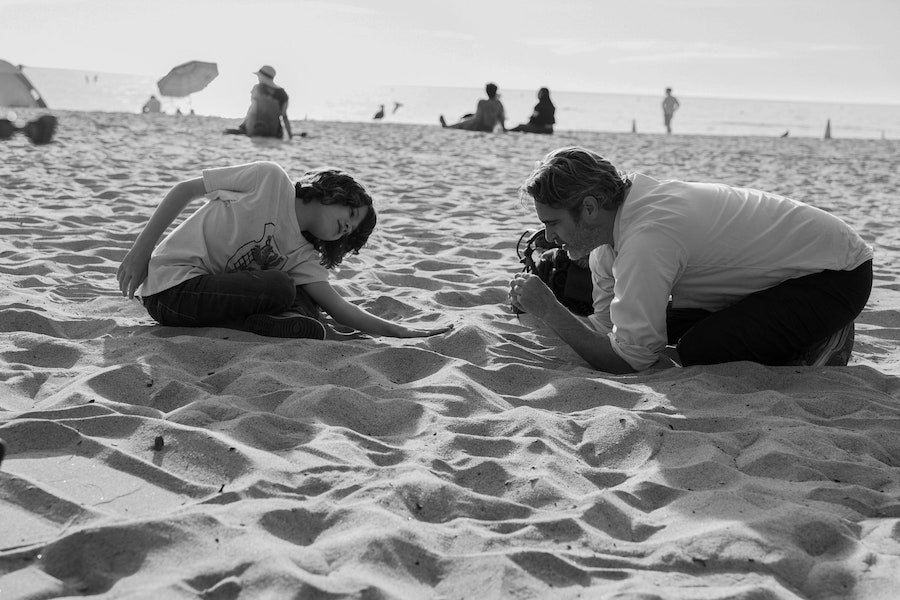 It was another difficult year for the film industry but theaters around the country slowly opened up as the year went on, which allowed Spider-Man: No Way Home to bring home over $500 million domestically last month alone. The future of theatrical releases remains unclear going into 2022 but there were plenty of worthwhile titles to see and stream through various avenues. I watched over 200 new releases in 2021. These are my 10 favorites:
Riders of Justice (streaming on Hulu and available to rent/buy)
Mads Mikkelsen stars in this Danish oddity that subverts the traditional vigilante revenge tale while exploring the nature of coincidence and trauma with a bitingly humorous touch. Like Another Round, the Mikkelsen-starring dramedy that won Best International Feature Film last April, it explores middle-age men coping with their issues in unconventional ways but packs even more of an emotional payoff.
The Velvet Underground (streaming exclusively on Apple TV+)
In the first documentary of his 30-year career, Todd Haynes brings an auteur's touch to his look at the seminal rock and roll band which gives the film its title. Through archival footage and voiceover from members of the group, the doc also peels back the avant-garde art scene in 1960s New York City for added context. A must-see for VU fans but newcomers should also find it intoxicating and vital.
The Mitchells vs. the Machines (streaming on Netflix and available to rent/buy)
This animated family comedy about a family staving off a robot apocalypse while on a college-bound road trip provided the most laugh-out-loud moments of any movie I saw last year. The voice cast, led by Abbi Jacobson and Danny McBride, lends plenty of heart and humor to the rapid-paced adventure but Olivia Colman steals the show as a vindictive, HAL 9000-like virtual assistant.
Judas and the Black Messiah (streaming on HBO Max and available to buy)
Unfairly written off by many critics late last year due to its inclusion in the 2021 Oscars, this nervy and urgent look at Fred Hampton's rise and fall in Chicago's Black Panther Party has the scope and spirit of early Scorsese. Get Out co-stars Daniel Kaluuya and Lakeith Stanfield square off with a pair of electrifying and unforgettable performances. Writer/director Shaka King is a talent to watch.
C'mon C'mon (available to rent)
Writer/director Mike Mills, one of the most empathetic filmmakers around right now, packs wit and wisdom to spare into this tale of a radio journalist looking after his nephew while also traveling across the country. Following up his incendiary Joker performance, Joaquin Phoenix taps into his contemplative and compassionate side with magnetic results. Shot in gorgeous black-and-white by Robbie Ryan, this is a salve for a wounded world.
The Humans (streaming exclusively on Showtime)
Adapting his Tony Award-winning play, Stephen Karam depicts a fraught Thanksgiving meal between a dysfunctional family with some of the year's most bruising yet illuminating dialogue. The top-tier ensemble cast, including Richard Jenkins and Beanie Feldstein, puts on a masterclass that probes the human condition with unflinching honesty. A singular and haunting work from a talent that I hope continues to bring his stories to the screen for years to come.
Licorice Pizza (now playing only in theaters)
Paul Thomas Anderson returns to the 1970s California setting of his early masterpiece Boogie Nights for this charming and carefree coming-of-age comedy with two breakout performers in front of the camera. Cooper Hoffman (son of the late Philip Seymour Hoffman) and Alana Haim (of the rock trio Haim) have a palpable chemistry upon which the film's myriad vignettes bloom. A killer soundtrack with a score from Radiohead's Jonny Greenwood fills out the sublime experience.
Dune (available to rent/buy)
This may only be half of Frank Herbert's landmark novel but Denis Villeneuve's vision of this story so far is nothing short of magnificent and truly awe-inspiring. The fusion of state-of-the-art special effects and intricate production design make this world feel rich and vast, one I'm sad I'll need to wait two years to revisit when Part Two arrives. This is intelligent sci-fi that proves not every blockbuster is braindead.
CODA (streaming exclusively on Apple TV+)
Winner of the Grand Jury Prize out of Sundance early last year, this touching story of a teenage girl who is the only hearing member of her otherwise deaf family is a heartwarming triumph. Newcomer Emilia Jones is extraordinary in the lead role and the trio of deaf actors that portray the rest of the family are just as strong with exceedingly well-rendered and soulful characters. Bring tissues. Seriously.
Pig (streaming on Hulu and available to rent/buy)
A midsummer surprise, this Nicolas Cage movie about a bearded loner on the search for his kidnapped truffle-finding pig has the logline of one of the thespian's numerous straight-to-DVD misfires. Against all odds, Michael Sarnoski's directorial debut expands beautifully from this jumping-off point and features Cage's best performance this century. An existential drama about seeking passion and purpose in an increasingly hostile and indifferent world, this is a treasure waiting to be found.
Reprinted by permission of Whatzup